---
Free Cancer-Specific Virtual Exercise Resources
If you are looking for virtual workouts or exercise classes that have been designed specifically for people who have had cancer, here are a few options to check out:
Treloar Cancer Recovery Exercise Program is offering free virtual exercise classes (3 classes per week!) during April, May, and June 2020 on their Instagram page @TreloarCRP.  Classes include "Building Strength", "Building Stamina", and "Stretch & Strengthen".  These classes are available for free and are led by a Clinical Exercise Physiologist.
BfitBwell Cancer Exercise Program has shared over 100 exercise techniques and short workouts on their YouTube channel
Want to start by checking out some tips from experts in post-treatment exercise programming?
The team at Thrive Health Services has shared great infographics that address the core elements of exercise prescription. They've got tips for progressing your aerobic exercise, measuring exercise intensity, cooling down after exercise, and more.
---
Ideas for Building in Exercise at Home
We recognize that many of our ActiveMatch community members are finding themselves at home much more than usual right now as they work to keep themselves and others safe.
At ActiveMatch, we want to support you in building in movement and exercise into your days in a way that aligns with current safety guidelines and recommended health precautions (see notes below).
Here are some ideas to help you continue moving during this challenging time:
Reach out to your current ActiveMatch partner, and/or log in to find a partner to be your designated virtual exercise buddy for the next few weeks – Commit to helping each other be accountable to daily at-home exercises
Create an exercise challenge with your friends (e.g., count the number of times in a day that you get up and move for 10 mins straight – or more) and send each other updates and words of encouragement!
Brainstorm small ways to build movement into each day (e.g., try lunges across your living room, see how many squats you can do while you wait for your kettle to boil, listen to music or a podcast while you climb your staircase a few times, use books for balance exercises, do a few sit to stands whenever you go to sit in a chair, take a break between phone calls, book chapters, or Netflix episodes to hold a plank position, etc.)
When you find small movement challenges that work for you, share them with your exercise buddies (and ask them to do the same for you)
Take time to reflect: Remind yourself why building in movement and exercise is important to you. Think about the reasons that you want to commit to giving your body movement even when (especially when) you're managing extra stressors or changes to your daily routines
Scan your environment for any exercise opportunities – Does your current situation present opportunities to move that are different from the ones you normally find in your routine?  Could a virtual exercise partner help you capitalize on those opportunities?
Be kind to yourself! Recognize that everyone experiences exercise setbacks. Make note of what's working (and what's not) and focus simply on moving a little bit more today than you did yesterday
Many studios, fitness programs, and exercise professionals are offering free online exercise videos and livestream recordings right now. If you have a favourite local studio or exercise program, visit their website or social media pages to see what virtual classes and workouts are available to you.
The following apps may also be useful to you as a source of movement inspiration (as always, please abide by the guidance of your health practitioners and listen to your body to determine which exercises are a good fit for you):
Nike+ Training Club offers a variety of workouts that focus on strength, endurance, and mobility, with different levels of difficulty. They offer workout series that don't require any equipment.
Freeletics provides workout suggestions for different fitness levels, all designed to use your body weight (as opposed to equipment).
Down Dog Yoga offers guided yoga practices for all levels.
Although now is not the time to meet your exercise partner in person, we encourage you to log in to ActiveMatch to find an exercise partner that you can connect with virtually during this challenging time.
Take good care, and please get in touch if you have questions for us.
---
Resources Related to Coronavirus (COVID-19)
The ActiveMatch team is committed to the wellness of all ActiveMatch users.  In light of the public health concerns related to COVID-19, we would like to support our ActiveMatch community members in accessing relevant information about how to protect themselves and others.
For up-to-date information about COVID-19, please refer to publications from the Public Health Agency of Canada and the World Health Organization (WHO):
For information about cancer and COVID-19, including individualized supports and information available to you, please visit the Canadian Cancer Society's website:
Hygiene habits that help to prevent the spread of infections include:
Washing your hands often with soap and water for at least 20 seconds
Using alcohol-based hand sanitizer
Avoiding touching your eyes, nose, and mouth
Keeping a distance (3 ft or more) from anyone who is coughing or sneezing
Staying at home if you are feeling unwell
Given that some ActiveMatch community members have compromised immune systems, we ask that you please take extra precautions when it comes to meeting up with your exercise partner(s) or exercising in public spaces.  Please avoid using any public or shared equipment as part of your activities for the time being.
For those of you postponing or adapting exercise plans with your partner(s), please be reminded that you can continue to support one another's exercise goals virtually (e.g., via phone, text, or videocall).
As you care for yourselves during this time, we hope that you will refer to resources that can help with managing fears and anxiety related to COVID-19 (e.g., Harvard has published a helpful resource).
Please don't hesitate to contact us if you have questions or concerns or if you would like to be directed to additional information.
---
How to Get Started
Talk to your doctor – Check with your oncology team before starting any exercise program.
Make a goal – It's helpful to have realistic goals. Stay flexible and always listen to your body.
Start small – Start with a little and progress only when you are ready.  Every little bit of movement helps.
Buddy up – Being active with someone else increases the likelihood that you'll stick to an exercise program. Use ActiveMatch to find your [virtual] exercise partner(s)!
Walking is a great way to start!
---
Connecting with an Exercise Partner
ActiveMatch partners connect in lots of different ways.  Here are a few ideas for you and your ActiveMatch partner:
Exchange numbers so that you can text each other on a regular schedule to offer motivation and support
Connect over the phone (e.g., to strategize about building more exercise into your days)
'Meet up' virtually for walks (to keep each other company and support one another in sticking to a walking schedule)
Find a new physical activity that you can try together
Share exercise tips and strategies that you've each found helpful
Sign up for a virtual class or exercise program (you can use the "Community Services Locator" below to find programs that might be offering online classes)
---
Community Services Locator: Find an Exercise Program
The Canadian Cancer Society's Community Services Locator helps people living with and beyond cancer (and their family and friends) find services and programs across Canada.  The Community Services Locator has a category specifically for "rehabilitation and exercise" services!
TIP: On the main page of the Community Services Locator, search for "exercise" and enter your postal code.
Connect with the listed programs to find out if they might be a good fit for you and your ActiveMatch exercise partner(s)!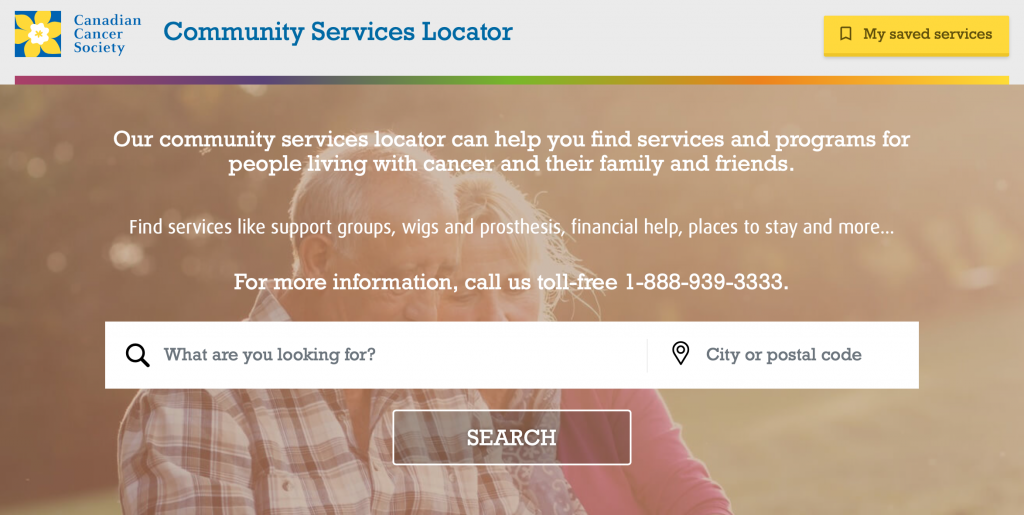 ---
Physical Activity Guidelines for Cancer Survivors
This short video from our colleagues at 2Unstoppable summarizes Cancer Care Ontario's published exercise guidelines for people with cancer:
You can also check out the consensus statement on exercise guidelines for cancer survivors! These guidelines (which were just released in November 2019) address the role of aerobic and resistance training in improving cancer-related health outcomes.
---
Structured Exercise Programs
More Coming Soon…
We are in the middle of extending our list of resources to provide you with carefully curated information and links.  Thank you for your patience!